Best High Altitude Chocolate Chip Cookie Recipe...EVER
I don't take baking lightly, and when we moved up to the Vail area 10 years ago baking was incredibly frustrating. The 8150ft elevation makes baking times and moisture levels tricky, so after literally hundreds of batches and advice from other bakers, I finally think the code is cracked for the chocolate chip cookie!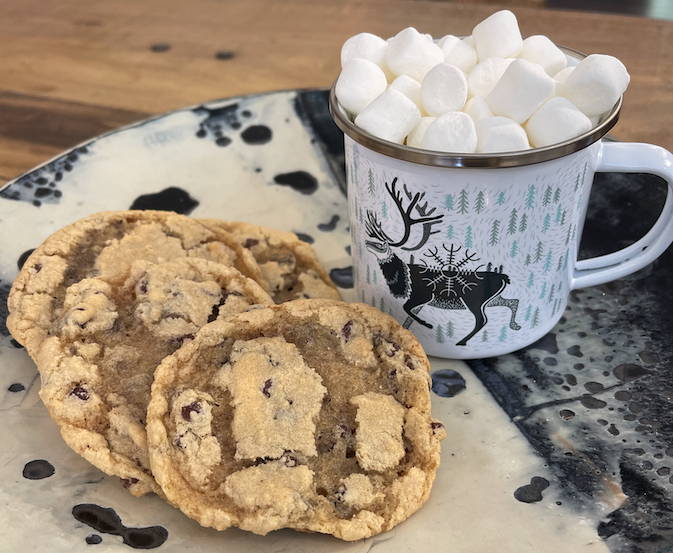 Ingredients
3 cups minus 3 tbsp all-purpose flour
3 TBSP cornstarch
1 tsp baking powder
1 tsp baking soda
1 ½ tsp salt
1/2 lb (2 sticks) unsalted butter, at room temperature
3/4 cups plus 2 tablespoons granulated sugar
1 cup plus 3tablespoons light-brown sugar, packed (or make your own: take the 1cup plus 3 tablespoons of sugar and put in mixer with 1-1.5 tbsp of molasses for 5 min)
2 large eggs, at room temperature
1 TBSP pure vanilla extract
Bag of Tollhouse Chocolate Chips (i prefer the mini ones for this recipe)
Dash of love
Directions
In a large bowl, whisk together the flour, cornstarch, baking powder, baking soda, and salt, and set aside.

In the bowl of an electric mixer fitted with the paddle attachment, cream together butter and both sugars (if making your own brown sugar, make that in mixer first then add regular sugar and butter) on high speed until very light (at least 5 minutes), scraping the sides of the bowl occasionally.



Add eggs, one at a time, mixing well after each addition. Stir in vanilla.





Reduce speed to low, add dry ingredients and mix until just combined. Add the chocolate.




Gather the dough into a ball, wrap tightly in cling wrap, and refrigerate ideally for 2 hours+. Dough may be used in batches, and can be refrigerated for a few days, or rolled into balls and put in the freezer for whenever you want to cook some fresh cookies!



When ready to bake, preheat oven to 350 degrees. Line baking sheets with parchment paper or nonstick baking mats; set aside.





Scoop mounds of dough onto prepared baking sheets, spacing about 2 inches apart.





Bake until lightly browned but still soft, about 10-12 minutes, rotating the pan halfway through.





Cool for about 2-3 minutes on the baking sheets before transferring to a wire rack to cool completely.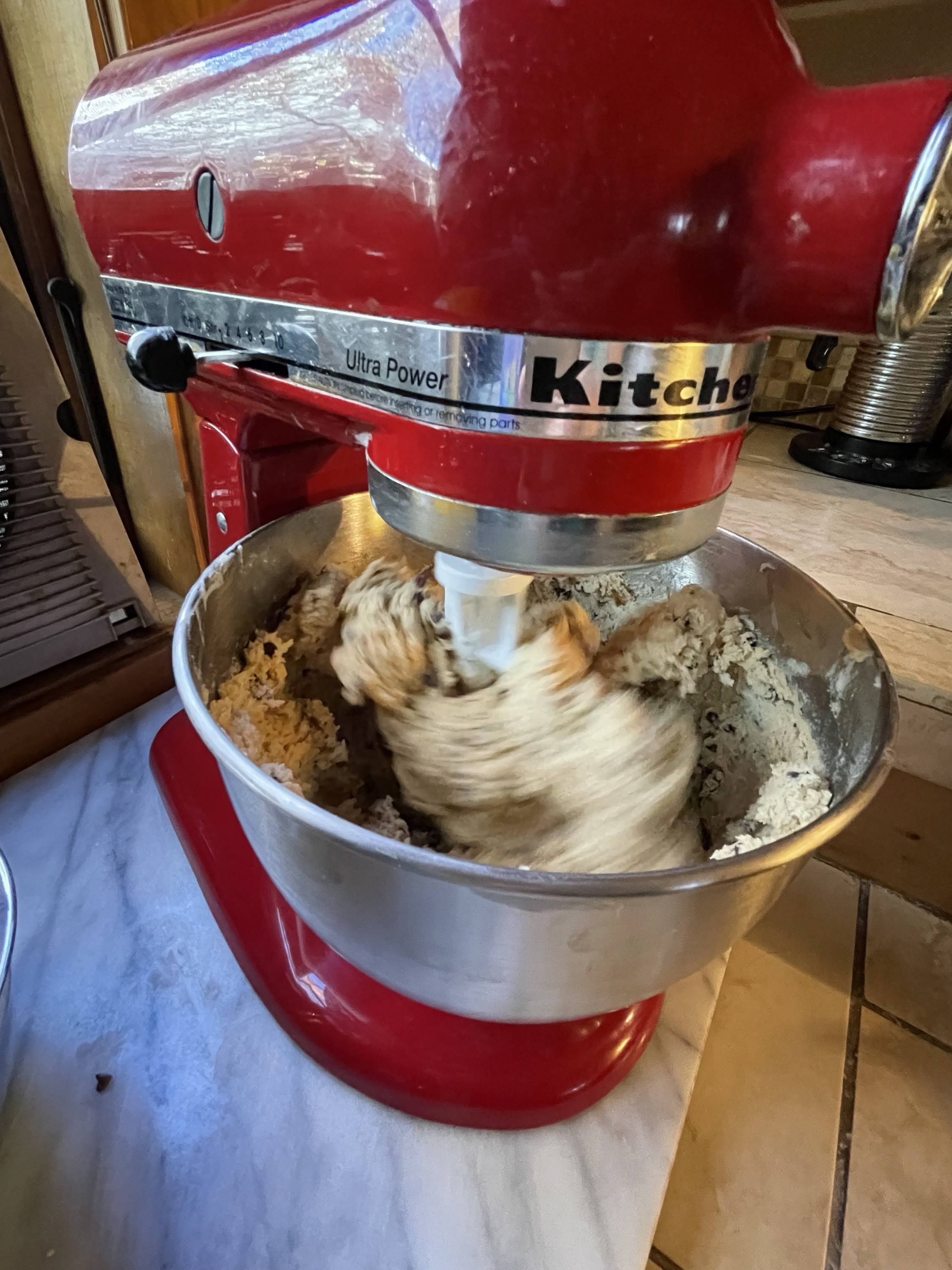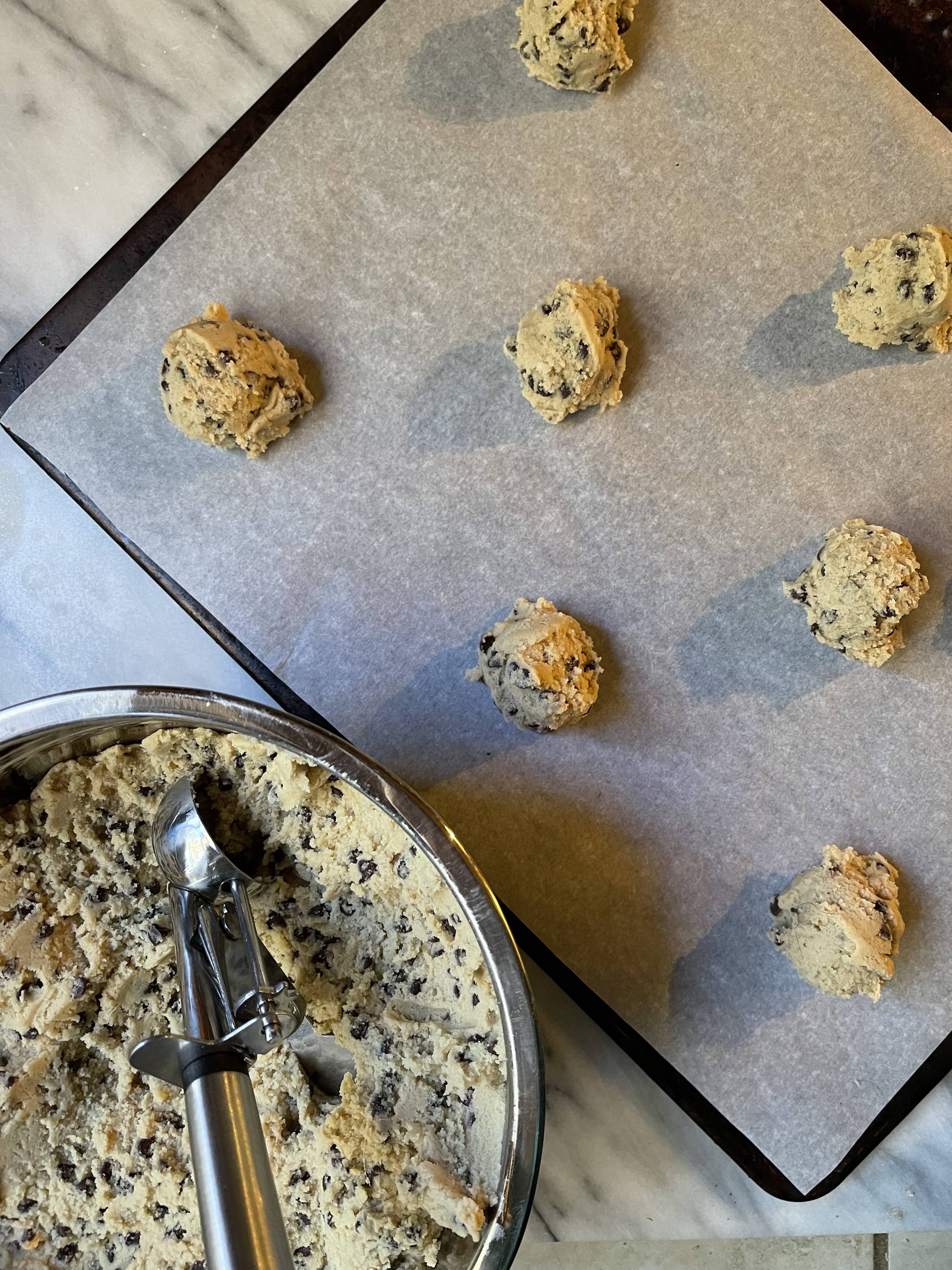 I want you to make these as good as I know they can be, now if you are familiar with baking, you know it can be tricky. So here are things I have found that make it work, at any altitude, but especially at high altitiude.
Stand Mixer. It isn't necessary, but the KitchenAid mixer is one of my favorite things in the kitchen, and this one is going on 10years! (that is still a young one if you know KitchenAid mixers)
Parchment Paper. Dear lord, get parchment paper, I don't know why everyone doesn't use this for ALL baking. It is non-stick, you can use it for multiple rounds, it is compostable, the list goes on. (Matt and I are convinced that 'big foil' has been putting parchment paper down, and doesn't want you to know what an amazing product it is)
Mini Toll House Chocolate Chips. Bought on accident the first time, but now a staple. They spread the cholate love more evenly, and I truly think the cookies taste better.
Be EXACT on Measurements. Up here at altitude, this is even more important, get out a rubber spatula to get every measurement level and exact. The more exact, the better the cookies. Believe me.
Cookie Scoop. I truly love the way these make the perfect mounds. They bake evenly when shaped like this, and it is so nice to know they won't spread into each other when they are consistent.
---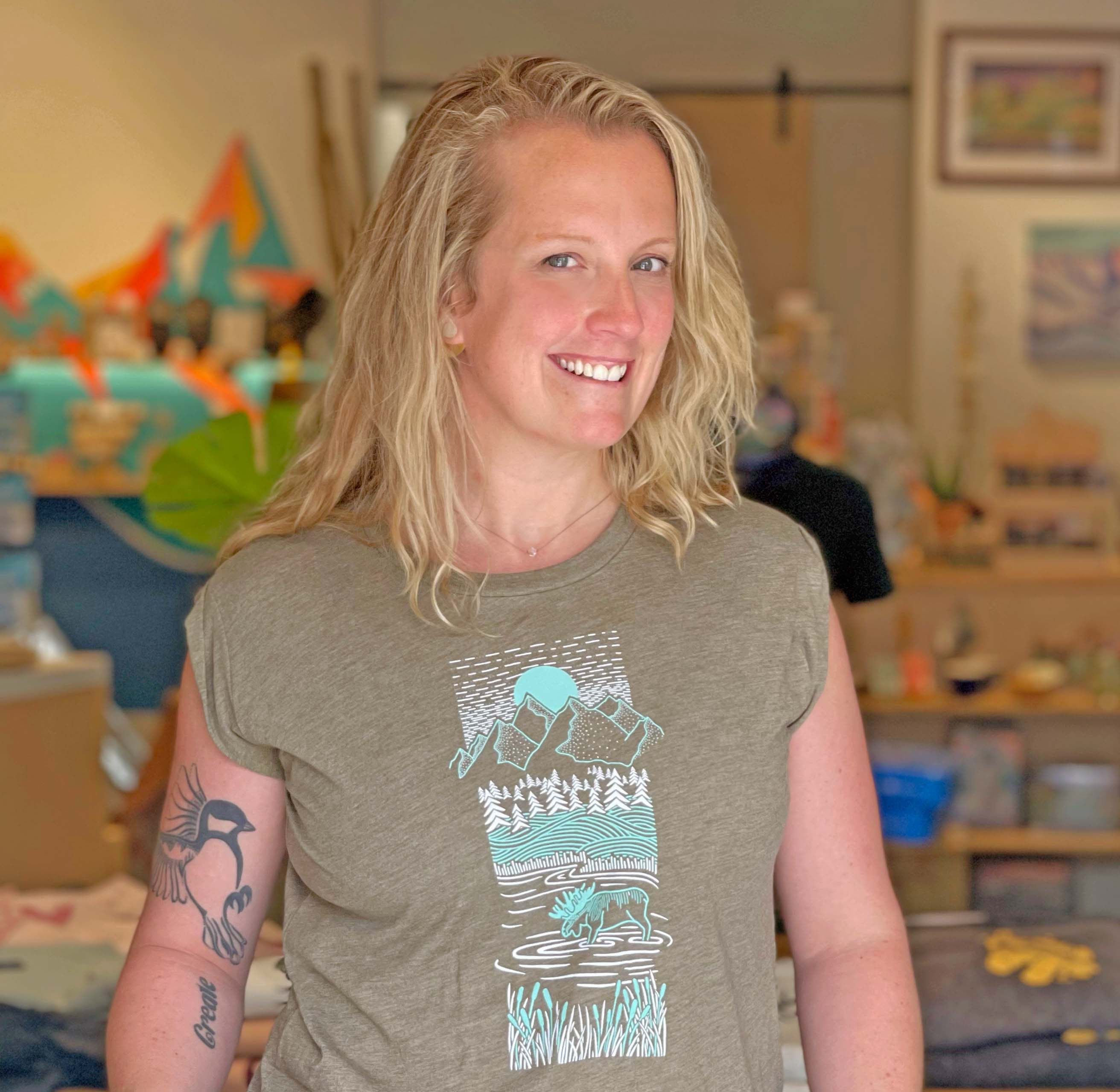 About Elise
Elise is the co-owner and designer behind everything here at Ketsol. When she isn't doing 50 things for the business, designing, or playing outside with the kids and dogs, she loves baking. She grew up in the kitchen with her mother, and she loves it just as much. After moving up to high elevation in the Vail area of Colorado, Elise discovered how difficult it can be to do all the recipies we are used to doing. Challenge accepted.